Thu., Oct. 18, 2012, 8:18 a.m.
Obama, Romney Pursue Women Vote
Mitt Romney and President Obama spent much of Wednesday battling for the support of women voters — a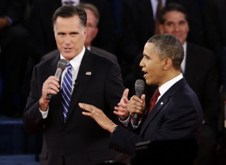 form of electoral hand-to-hand combat that is likely to persist all the way to Nov. 6. As Time Magazine's Michael Scherer put it, "there was no doubt about the winner of the second presidential debate: Women. Both candidates lurched onto the campaign trail Wednesday with new appeals to shore up support among a key demographic that may decide the outcome in key swing states." And ABC News political analyst Nicolle Wallace said on "Good Morning America" today that "all women are making trade-offs with both of these guys. I don't think men — but particularly women — were attracted to the nastiness in that debate. Women, more than men, are turned off when it gets below the belt"/Michael Falcone & Amy Walter, ABC News. More here. (AP file photo)
Question: Why does the media and candidates try to focus on women as a monolithic group that can be pidgeon-holed rather than a widely diverse group that simply shares gender?
---
---