MONDAY, OCT. 22, 2012, 8:54 A.M.
Idaho Fires Football Coach Akey
Item: Idaho coach fired, Gesser takes over/Josh Wright, SR
Here's a bet: Robb Akey comes down to the breakfast table this morning, looks at a family trying to hide its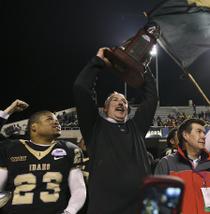 heartbreak and booms out the question he asks every room he enters: "HOW WE ALL DOIN'?" If only a life lived in capital letters could have repeated the "W" more often. Those rooms where Akey bowed the walls with his relentless spirit did not go concave with the air being sucked out in surprise when the University of Idaho sent out a feeble email notice Sunday afternoon that he'd been fired as head football coach. His record – 20-50 – was leaden. His relationship with athletic director Rob Spear was fractious. The support of Idaho's constituency was indifferent. Oh, wait. That last part's true no matter who happens to be the coach/John Blanchette, SR. More here.
Question: Do you agree with Robb Akey's firing?
---
---