Mon., Oct. 22, 2012, 9:27 a.m.
Nilson Wants NIC Trustee Spot
Ron Nilson said he's running for a seat on the North Idaho College Board of Trustees because the community's future leaders are its children, and their success relies on the quality of the education they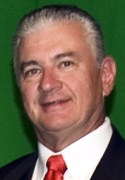 receive and how well they are taught to maximize the use of their skills as they move forward. Nilson, 60, is running for election to Seat C on the NIC board. Ron Vieselmeyer, who currently holds that position, is not seeking re-election. "I support Joe Dunlap, the new president of NIC, and his efforts, and I am committed to working with him to build a bridge between the private sector and the college," Nilson said. A Coeur d'Alene resident, Nilson is president and CEO of Ground Force Worldwide, a Post Falls-based multinational company that manufacturers mining equipment. He has lived in Kootenai County for 12 years/Maureen Dolan, Coeur d'Alene Press. More here.
Other Press trustee profiles
Question: Do you think Nilson will play well together with other NIC trustees, if he is elected but other two challengers on his Reagan Republican ticket aren't?
---
---