Tue., Oct. 23, 2012, 8:53 a.m.
Assessor, Treasurer Want Pay Raises
At least two Kootenai County elected officials could get raises this fiscal year, under a resolution the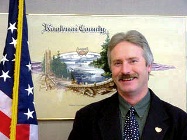 commissioners will consider at their business meeting today. Under Idaho code, the commissioners must set the nine elected officials' salaries each year, including their own. The new fiscal year budget allows raises for all of the more than 700 county employees, including voted-in officials. Yet under today's proposed resolution, only two of the county's nine officials, the treasurer and assessor, are requesting to receive a 2.47 percent raise. The other seven officials, commissioners included, are recommending to keep their salaries flat. "The commissioners, we decided we're not taking a raise this year, because of the economic times," said Commissioner Todd Tondee, who like the other commissioners earns $71,080 a year/Alecia Warren, Coeur d'Alene Press. More here. (Kootenai County photo: Assessor Mike McDowell)
Question: Is this the time for a public elected official to ask for a raise?
---
---