Tue., Oct. 23, 2012, 12:51 p.m.
SR Picks Playboy Vet Over Shea Fear
If there were a political version of the TV show "Fear Factor," Republican Rep. Matt Shea would make an excellent host. Fear of U.S. currency. Fear of the Federal Bureau of Investigation. Fear of "FEMA camps" where,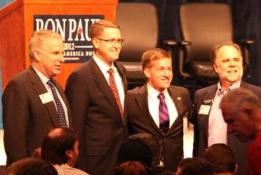 according to a conspiracy theory, citizens will be held once invading federal troops round them up. No wonder he keeps a gun stashed in his car. We would've liked to discuss these views and more, but he was alone among local candidates in declining to return our calls. So we're left with lines like this from a speech to the Constitution Party, "How long will we continue to beg like dogs only to be satisfied with a few scraps from the king's table?" Shea supported Constitution Party candidate Randall Yearout rather than Rep. Cathy McMorris Rodgers in the 5th District congressional primary. His desire for states to unilaterally nullify federal laws shows he's a fringe thinker. To borrow a phrase, he's a Republican in name only/Spokesman-Revew Editorial Board. More here. (Rep. Matt Shea, 2nd from left, with Idaho Reps. Phil Hart, left, and Vito Barbieri, right, at Ron Paul rally in Spokane earlier this year.)
Question: Izzit just me, or does Shea sound as thought he'd fit in perfectly in Idaho's Legislative District 2 or 3?
---
---