WEDNESDAY, OCT. 24, 2012, 12:08 P.M.
Trump Offers $5M For Obama Records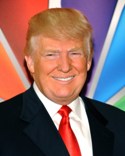 Donald Trump said on Wednesday that if President Obama releases his college records and his passport application, the mega-millionaire developer will give a $5 million check to charities of Obama's choosing. Trump tweeted a video of himself in which he offers Obama a "deal that I don't believe he can refuse, and I hope he doesn't." The records must be turned over by Oct. 31 by 5 p.m., and the check will be made within an hour after the records are released, Trump said/Katie Klueck & Bobby Cervantes, Politico. More here.
Question: Should President Obama take the deal?
---
---