Thu., Oct. 25, 2012, 8:28 a.m.
Everyone Mum On House Leader Race
Graham Paterson is no political newbie, having done campaign work for Dirk Kempthorne, Steve Symms,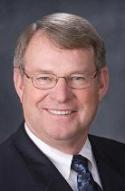 Helen Chenoweth-Hage and Brent Coles. But asked in an editorial board meeting to offer his take on House Republican leadership, the normally glib Paterson slowed down to pick his way through the field of rhetorical cowpies. The silence was awkward, and Paterson tried to break the tension. "I can hear the clock ticking." Ultimately, the best Paterson could offer was a general statement that leadership — executive and legislative, in both parties — has done a good job navigating an "extremely stressful" economic environment. As an outsider, running for an open seat, he said he considered it hard to judge leadership further. And that's how it went generally, when we asked House Republican candidates about the race they don't want to discuss/Kevin Richert, Idaho Statesman. More here. (Idaho Legislature photo of House Speaker Lawerence Denney)
Question: Is it time for House Speaker Lawerence Denney to go?
---
---