Thu., Oct. 25, 2012, 8:50 a.m.
Moscow High Schoolers Pick Obama
More than 600 high school students passed through the 1912 Center Wednesday for the ninth biannual Moscow League of Women Voters mock elections. This year Latah County high school students elected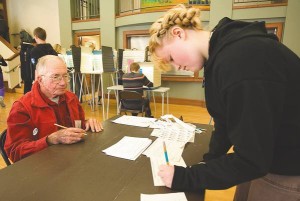 Barack Obama over Mitt Romney for president by 26 votes. The past eight times the LWV held mock elections, Latah students have predicted three out of three presidential elections and three out of four gubernatorial elections, organizers said. The school mock elections are held on every general election year and usually involve every school, but this year only high schools in Latah County voted."We used to do all the schools in Moscow, this is the first year we just limited it to high schools," said Karen Lewis, chair of the mock elections. "It's a little silly to watch second graders vote"/Estelle Gwinn, Moscow-Pullman Daily News. More to come. (Geoff Crimmins Daily News photo: Volunteer Dick Fredericks, left, helps Moscow High School sophomore Chloe Williams fill out an affidavit to vote in the League of Women Voters of Moscow Mock Election)
Question: What percentage of the vote will President Obama get in the Idaho election Nov. 6?
---
---