Thu., Oct. 25, 2012, 12:53 p.m.
Post: Ex-Redskin In Run For His Life
On his way to changing the country, Jimmy Farris was late hitting the road. He didn't load his car until after 8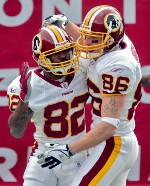 p.m., and the trip from Georgia to Idaho would measure more than 2,300 miles. His 3-year-old cat, Caesar, was a nervous wreck — and he was the calmest one in the car. That first night, back in 2011, Farris had hoped to get as far as Nashville. But after only 10 miles, his head was spinning and tears were flowing, and he pulled over. A couple of years had passed since he had played his final game in the National Football League, and this next step was daunting. All he could think was, "What am I doing with my life?" Since he could run, Farris had been a football player. He played wide receiver at a small college and spent six seasons in the NFL, including two with the Washington Redskins/Rick Maese, Washington Post. More here. (AP file photo: As a Washington Redskin in 2005, Jimmy Farris celebrates a touchdown with a teammate)
Question: Is Jimmy Farris the new face of the Idaho Democratic Party?
---
---