Thu., Oct. 25, 2012, 8:19 a.m.
Wannabe's Rape Remark Haunts Mitt
Just as Mitt Romney and other Republicans had cut into the Democrats' advantage with female voters, a tea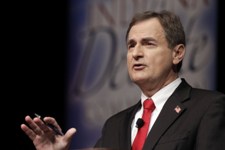 party-backed Senate candidate's awkward remark – that if rape leads to pregnancy it's "something God intended" – has propelled the emotional issue of abortion back to the political forefront. It's put GOP candidates in tight races, from the presidential candidate on down, on the defensive. Divisive social issues are hardly what most GOP candidates want to be discussing in the few days remaining until elections largely hinging on jobs and the economy. Almost immediately after Richard Mourdock's comment, Republican candidates distanced themselves from the Indiana state treasurer – though by varying degrees/AP. More here. (AP photo of Richard Mourdock)
Question: WWMD (What Should Mitt Do)?
---
---