Fri., Oct. 26, 2012, 9:23 a.m.
CdA Program Helps Disabled Workers
When Christopher Griffin (pictured) fills out job applications, he knows his work history stands out for the wrong reason.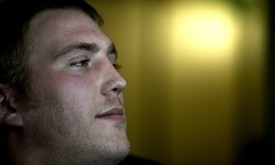 He hasn't held a job since 2005, well before the recession. The 31-year-old Spokane man was diagnosed with multiple sclerosis seven years ago this month. The news derailed his working life. Numbness in one foot – a symptom of the disease that attacks the central nervous system – forced Griffin to quit his last job as a line cook. "We had hot oil, sharp knives – you know, just everything that would be an issue," he said. After years of fine-tuning medical treatments and attending community college accounting classes part time, Griffin is ready to go back to work. He hopes to land a job that permits him to mostly sit, as standing for long periods is difficult/Scott Maben, SR. More here. (SR photo: Kathy Plonka)
Question: Does your business hire workers with disabilities?
---
---