Fri., Oct. 26, 2012, 1:19 p.m.
Longo Gets His Man … Again
Coeur d'Alene Police Chief Wayne Longo found himself chasing another robber last night after an alert citizen called in an armed robbery that had just occurred at 6:40 p.m. at the Boulevard Food Mart located at 1801 NW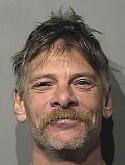 Blvd. Residents may remember Chief Longo was involved in a foot pursuit in August of 2010 and captured a suspect who had stolen a vehicle. In this instance Chief Longo had just turned onto NW Boulevard when the robbery called was aired. Officers Tim Neal and Pete Tufford also responded to the area to assist the Chief in locating the suspect. The store clerk reported to 911 a transient later identified as Jon Wallace Hohnsbehn (pictured) had come into the Food Mart and stole a couple of bottles of beer. The clerk confronted Hohnsbehn and he pulled a knife on the clerk and said "I will stab you". Hohnsbehn then left the area on foot and walked toward Riverstone/Sgt. Christie Wood, Coeur d'Alene Police Department. More here.
Question: Izzit just me, or are transients with knives becoming a problem in Coeur d'Alene?
---
---