MONDAY, OCT. 29, 2012, 8:46 A.M.
$4K Worth Of Pumpkins Smashed
A pumpkin patch on the South Hill has become the target of vandals. Sometime after 8 p.m. Saturday,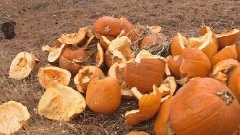 someone smashed hundreds of pumpkins in the parking lot of Our Lady of Fatima on 33rd Avenue. "Oh, it's crazy I don't get it," said Mark Sullivan, a church volunteer. " I don't understand why someone would do this." Sullivan said so many pumpkins were smashed the mess created a traffic hazard on 33rd Avenue. Spokane city street crews spent four hours cleaning up pumpkin pieces. "He had so many pumpkins that he had to leave with his pickup and come back with a dump truck and then he came back with street sweeper, who knows how much tax payer dollars that cost, it's a lot of money," said Sullivan/Annie Bishop, KXLY. More here.
Question: There's an underlying meanness to this crime that bugs me. I hope they catch the vandal(s) -- and penalize him/her to the max. What do you think?
---
---