Mon., Oct. 29, 2012, 5 p.m.
Clerk Hayes Sues Judge Over Control
County Clerk Cliff Hayes and Administrative Judge John Mitchell (shown talking to an inmate involved in Mental Health Drug Court) are involved in a flap re: who is responsible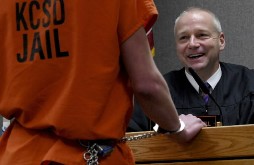 for the District Court employee supervision and budget -- and deciding increases in compensation for bailiffs, court security personnel, judicial staff attorneys (law clerks), specialty court coordinators, etc. Hayes claims "final authority to hire, terminate the employment of, authorize wage increases, and evaluate the job performance of all county employees working in the court system in Kootenai County whose wages are paid from Kootenai County funds including, but not limited to, the District Court Fund. Mitchell disagrees with Hayes. Hayes has sued Mitchell, in his role as administrative judge. Also, Hayes has asked that all the other judges in the 1st District Court be disqualified from hearing the lawsuit since he believes they would have a conflict of interest. You can read the lawsuit that seeks declaratory judgment here.
Question: Can't figure out the end game here. Judges traditionally have control of District Court budget. Appears as the Idaho Supreme Court feels that way, too. Any thoughts?
---
---