Mon., Oct. 29, 2012, 10:15 a.m.
Study: IEA 'Thugs' Relatively Weak
While Idaho's teachers union has been accused of union thuggery during the intense campaign on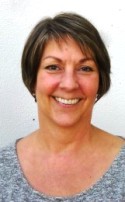 Propositions 1, 2 and 3, the state ranks just 36th in union strength nationwide, according to a study released Monday by the Thomas B. Fordham Institute and Education Reform Now. The report says Idaho has the seventh-highest rate of teachers laid off annually due to poor performance, with 3.5 percent let go every year. Union membership ranks 35th, with 62 percent of teachers in unions, and union revenue ranks 29th, at $444 annually per teacher. The Ohio-based Fordham Institute's board includes former U.S. Education Secretary Rod Paige, who was Idaho Superintendent of Public Instruction Tom Luna's boss during the George W. Bush administration/Dan Popkey, Idaho Statesman. More here. (IEA photo of President Penni Cyr)
Question: Izzit just me, or do you also think that the real motivation behind the Luna-Law propositions is to drive the last nail into the coffin of the teachers union while giving Republican legislators cover to further underfund education?
---
---