Tue., Oct. 30, 2012, 8:54 a.m.
Ex-Vandal Iupati Wows NFL Pros
On a 10-yard, fourth-quarter run by Kendall Hunter in last week's win over Seattle, Mike Iupati pulled from his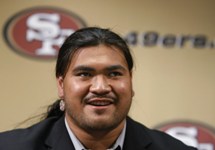 left-guard position, sprinted right into the second level and ran over Seahawks linebacker Bobby Wagner to pave the path for Hunter. On the NFL Network telecast, analyst Mike Mayock raved about Iupati, saying the 6-foot-5, 331-pounder was "a left guard that I think has a chance to become the best guard in football. He's so big and strong. He's gifted athletically." Mayock's opinion is shared by others/Eric Branch, San Francisco 49ers. More here.
Question: Isn't it nice that someone associated with Idaho Vandals football is successful?
---
---