Wed., Oct. 31, 2012, 9:29 a.m.
Meyer Leads NIC Trustee $$$ Raising
Incumbent Judy Meyer outraised challenger Paul Matthews in one North Idaho College trustee race and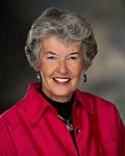 incumbent Mic Armon and challenger Paul Matthews were fairly even in the fund-raising in another race, according to the seven-day, pre-election campaign finance reports. Meyer (report here) has raised $6,356 to defend her seat on the NIC board, while challenger Matthews (report here) has raised $3987. In the second race involving an incumbent, challenger Todd Banducci (report here) has raised $5329, while incumbent Mic Armon (report here) has raised $5007. Matthews and Banducci are also aided by the considerable fund-raising of the Kootenai County Reagan Republicans, who have spent $30,402 so far this year to support a slate of candidates at county, legislative and nonpartisan levels.
Also: As reported Tuesday, Ron Nilson, owner of Ground Force, has raised $12,500, including a personal loan of $4539, in his six-way race for an open NIC trustee seat. Former legislator Dean Haagenson, his chief competition, still hasn't turned in his finance report. You can read the breakdown of Nilson's report and 4 others turned in here.
Also: Dean Haagenson, a candidate for the open seat, has turned in his finance report, showing he raised $1325, including $750 of his own money. You can see it here.
Question: Find anything of interest in the financial statements?
---
---