"As soon as word came that GOP vice presidential candidate Paul Ryan (pictured in AP file photo) had fudged about his marathon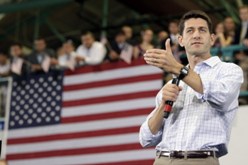 running skills — by over an hour, an exaggeration of near-Olympic proportions — you knew some enterprising webmaster would jump on the story," writes Kevin Richert/Idaho Statesman. "And at this site, the Original Paul Ryan Time Calculator, runners can plug in their real best times and find out how they translate to unreal Ryan time. So I'll say this much for Ryan. He helped me shave close to 35 minutes off my personal record in the half marathon. I didn't even have to work up a sweat. Thanks, sir." H/T: Kevin Richert blog.
Question: Using the Ryan calculator, how fast can you run a marathon?