Wed., Sept. 5, 2012, 12:16 p.m.
D's Platform Dumps God, Jerusalem
The Democrats moved "forward" during their Charlotte convention by removing a key member of their party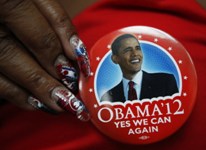 from its past platforms. There is no room for God in Mr. Obama's coronation party. In fact, the Democrats removed any reference to God from their platform as approved by Newark, N.J. Mayor Cory Booker, according to an ABC report. Gone with God, is Jerusalem, another word not mentioned in the Democrat's political arrangement. God appeared in the Democrat's platform verbiage as late as the 2008 convention, where the apparently divisive, in the view of Democrats, phrase "God-given potential" appeared/Examiner.com. More here. (AP convention photo)
Question: Does this mean that the GOP is more godly than the Democrats?
---
---