Wed., Sept. 5, 2012, 9:16 a.m.
Ex-Idaho Senator Boatright, 82, RIP
On his Facebook page, MikeK writes of the death of former state Sen. Clyde Boatright of Rathdrum: "Politics is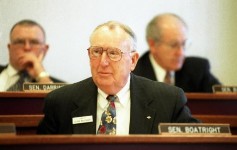 an interesting avocation. I campaigned with a friend against Clyde 18 years ago (he won that election) and I grumbled about his votes for years. But fast forward a decade or so, when I was in the position of dealing with elected legislators, it turned out that Clyde shot pretty straight and we got along just fine despite our differences. His word was good where I was concerned. There may not be much note of his passing, but I have to say from the other side of the aisle and a generation apart, Godspeed, Clyde. You were an honorable guy and from what I saw your peers respected you. I wish the same were true of all politicians these days. Vaya con dios." (Jesse Tinsley 1995 SR file photo of Clyde Boatright as a freshman state senator. Boatright served 8 years in the Senate.)
Thoughts?
---
---