Wed., Sept. 5, 2012, 9:09 a.m.
Peak Has Snakepit Running Again
Joe Peak is still running the Enaville Resort – the Snakepit, as locals know it – along the Coeur d'Alene River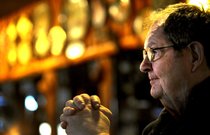 north of Kellogg. As he's battled cancer and mourned the death of his wife earlier this year, the 66-year-old owner found a way to bring the legendary Silver Valley restaurant and bar back to a five-day-a-week operation this summer. For now, he's taking it day by day. The place is for sale and he'd like to retire and tend to his health, but Peak keeps going for the sake of his loyal customers. "You know, it's a young man's game," he said. "We just need someone in here who's got a little more pep and energy and is willing to put their lives into this place. We gave till we can't give anymore"/Scott Maben, SR. More here. (Kathy Plonka SR file photo of Joe Peak)
Question: When did you last visit the Snakepit?
---
---