The moniker couldn't be more apt, really. At the glory-bathed positions of quarterback, running back and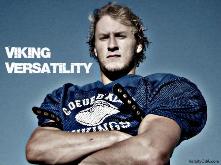 receiver, Coeur d'Alene's coming-of-age juniors occupy most of the spots. Then there's the senior class. That group known for its lunch-pail demeanor, vocality and quiet contribution. The Grinders, as nicknamed by Viking coaches. Two-way superlative Reece Mahaffy is a microcosm of their approach. Mahaffy, one just six returning starters from Coeur d'Alene's unscathed run in 2012, is contributing to the top-ranked Vikings in a variety of capacities. Be it from a ball-hawking safety, linebacker, receiver or running back position, Mahaffy makes each move with aplomb. "Growing up I just played every position I could," said Mahaffy, who also threw for a touchdown in the Vikings' season opener at Skyview. "I'll play wherever the coaches need me"/Ryan Collingwood, VarsityCDA.com. More here.
Question: Which local high school sports team do you follow? Why?