THURSDAY, SEPT. 6, 2012, 2:49 P.M.
Humane Society Goofs Up Perfection
We dare you. Look at the face of Idaho's most famous black bear cub, rescued from a wildfire near Salmon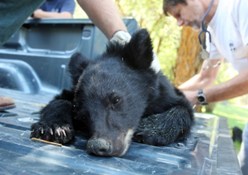 Aug. 26. Just try not to let out an "Awww." Now, we double dare you. Look into his eyes and see a Bernard. You couldn't do it either, could you? Sometimes a name is just pitch perfect. Like Boo Boo — which Forest Service firefighters bestowed upon the bruin that they found, clinging to a charred tree, suffering from second-degree burns on his paws. A tribute, of course, to animated icon Yogi Bear. And a bit of upbeat whimsy, befitting one of the few feel-good stories from a tough fire season. Then the Idaho Humane Society tried to mess with perfection. Yes, Wikipedia says Bernard comes from "Bern-hard," Germanic for "bear-hardy" or "brave as a bear." It still sounds clunky/Kevin Richert, Idaho Statesman. More here. (AP file photo)
Question: Which name do you prefer for bear cub burn victim -- Bernard or Boo Boo?
---
---