THURSDAY, SEPT. 6, 2012, 3:20 P.M.
Luna Wants 5% More For Schools
Idaho state schools Superintendent Tom Luna released his budget request today for the state's schools for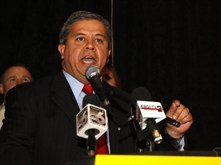 next year, calling for a 5.1 percent, $64 million increase in state funding. Luna said he met with stakeholder groups over the summer, including the Idaho School Boards Association, Idaho Association of School Administrators, Idaho Education Association, Idaho Association of School Business Officials and others, to formulate the request; it reflects some of those groups' common priorities, he said, including "backfilling" the 1.67 percent cut in salary funds for teachers and administrators that was imposed in 2011 under the "Students Come First" school reform laws/Betsy Russell, Eye on Boise. More here. (AP file photo)
Question: Too little, too late?
---
---