Thu., Sept. 6, 2012, 1:09 p.m.
Vets Honor VA Hospital Ambassador
Five days a week, from 8 a.m. to 4 p.m., Ted Siekerman, 82, can be found at the Spokane Veterans Affairs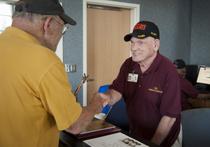 Medical Center. From his post at the ambassador desk in the lobby, the Medical Lake resident welcomes visitors, helping them find their way around the sprawling campus. He greets returning patients and guests like old friends. He's been on the job for 29 years – but job is not an accurate description. Siekerman is a volunteer. In July, he received the Volunteer Award from the American Legion at the Washington Department Convention in Wenatchee. Although Siekerman is just one of 400 volunteers at the VA, his statistics are impressive. He's racked up more than 40,000 hours of service/Cindy Hval, SR. More here. (SR photo: Colin Mulvany)
Question: Do you volunteer anywhere?
---
---