Fri., Sept. 7, 2012, 1:12 p.m.
My Trophies At Last I Laid Down
I'm not a pack rat by any means. But I like to jam my office spaces -- home and at work -- w/memorabilia and toys. My folks didn't have much money when I was growing up. So toys were sparse. We made do by using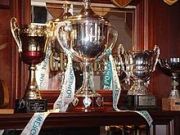 sticks for battles between good guys and bad guys. (I'd probably be arrested today for pointing my walking stick from Stickman at someone and saying, "Bang!"). Over the Labor Day weekend, I finally gave in to my long-suffering wife's request to dust, clean and winnow through my home office baubles. I couldn't believe how much stuff I packed out of the relatively small office. It ended up scattered over three other rooms. I probably got rid of a third or more of it, including two sports trophies won my teams I managed in early 1990s. It was hard to depart with things at first. But then I got into a frenzy and began tossing things right and left. In the end, I dusted the office, painted it, and reloaded. I enjoy it much more now. I also know where things are. How about you?
Question: Do you have trouble getting rid of stuff? And/or: Which trophy/award will you never throw away?
---
---