Fri., Sept. 7, 2012, 11:59 a.m.
Noon: Have You Had A Concussion?
A new program being used by the Kellogg High School football and soccer teams called Impact looks to help diagnose concussion victims and ensure those who are concussed don't return too early and risk further brain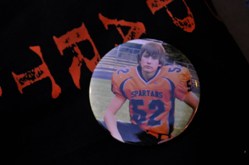 damage. Cory Lewis, a physical therapist at Shoshone Medical Center, introduced the program — which is already being used across the country, to SMC and Kellogg High School. Lewis said as concussion management has become a big issue in all of sports — from the NFL to peewee football — the program has been developed to test potential concussion victims with a series of test on a computer/Bobby Atkinson, Shoshone News-Press. More here. (SR file photo: The Priest River Spartans booster club sold buttons to raise money for the family of Bobby Clark, a football player who received a severe head injury during a 2011 game)
Question: I've never had a concussion. Have you? What's it feel like?
---
---