MONDAY, SEPT. 10, 2012, 1:11 P.M.
Raul Woos Hispanics For Romney
Idaho Statesman reporter Dan Popkey had an interesting report over the weekend on how freshman Idaho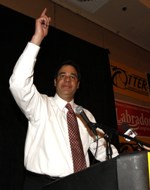 Congressman Raul Labrador has been campaigning in Nevada and Colorado for GOP presidential nominee Mitt Romney, joining former SBA chief Hector Barreto and Romney's Spanish-speaking son Craig to pitch Romney to Hispanic voters, including addressing Hispanic business groups and doing interviews with Spanish-language media. You can read Popkey's full report here, which also examines other to Idaho officials' close ties to the Romney campaign. Now, Labrador's Democratic opponent, Jimmy Farris, has issued a news release criticizing Labrador for the move, saying he's ignoring voters in his home state/Betsy Russell, Eye on Boise. More here. (AP file photo of Congressman Raul Labrador)
Question: Anything wrong with Congressman Raul Labrador going to nearby states in search of votes among Hispanics for Mitt Romney?
---
---