Tue., Sept. 11, 2012, 8:33 a.m.
Dress Code Snags CHS Cheerleaders
The comprehensive dress code policy adopted a year ago by the Coeur d'Alene School District applies to all students, even cheerleaders in uniform on game day. Leslie Damiano, the parent of a Viking cheerleader,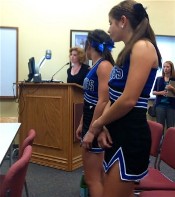 attended Monday's school board meeting and told trustees that her daughter and the rest of the girls on the cheer squad learned at practice Wednesday that their cheer uniforms violate dress code and can no longer be worn to school. Damiano said she was speaking on behalf of the cheerleaders who sat in the audience wearing their Viking blue and black outfits. She asked the board members to think back to their own high school days, when on Fridays, they saw their cheerleaders in uniform. "You knew right away, 'We've got a game tonight. Friday night lights are up. They're on,'" Damiano said. She said she believes that cheerleaders in uniform boost the morale of the athletes and help unify the students to support their team/Maureen Dolan, Coeur d'Alene Press. More here. (Coeur d'Alene Press photo)
Question: Should Coeur d'Alene High cheerleaders be allowed to wear their uniforms to school?
---
---