Tue., Sept. 11, 2012, 2:38 p.m.
Labrador Questioned ITD Policy, Too
Four months before Pam Lowe (pictured) was fired as director of the Idaho Transportation Department, then-sophomore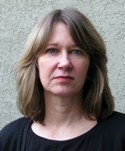 state Rep. Raul Labrador helped defeat a bill raising fuel taxes by saying the only people he heard from in support of the hike were those with an financial stake in construction work. Lowe, whose wrongful termination lawsuit cost the state $1.3 million, said she was a victim of gender discrimination and targeted for trying to scale back a construction-management contract benefiting Washington Group (now URS) and CH2M Hill. Those companies had contributed at least $22,000 to Gov. Butch Otter, whose transportation board fired Lowe in July 2009. After the state and Lowe settled last month, Lowe told my colleague, Cynthia Sewell, that the $50 million contract has since morphed into $100 million for work ITD could have handled in-house/Dan Popkey, Idaho Statesman. More here.
Thoughts?
---
---