Thu., Sept. 13, 2012, 10:17 a.m.
LC Playhouse To Visit 'Oklahoma'
Lake City Playhouse is getting traditional this week, opening its 2012-'13 season on Friday with the classic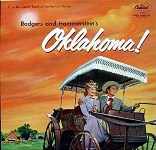 Rodgers and Hammerstein musical "Oklahoma!" Artistic Director George Green said Lake City's small venue – it seats 170 – allows the theater's creative team to take big, sprawling productions such as "Oklahoma!" and concentrate on the story. "We have such an intimate venue. That's the big thing to really focus on when you come to see a show here," Green said. "Although we have 170 seats, the way our theater is set up, it feels like you're right up there with (the actors). "What we do here is make sure that our adaptation of the show focuses on the character work and the storylines within the musical numbers." The large cast of 27 actors is headed by the four who play the lead couples/Carolyn Lamberson, SR. More here.
Question: Do you patronize the Lake City Playhouse?
---
---