Thu., Sept. 13, 2012, 11:41 a.m.
Tom's Stolen Hot Wheels Recovered
Unique can be good. It can make something hard to hide in a crowd, for example, which can be a swell thing if your unique-looking truck - the one with red flames on its hood - is swiped and you're trying to track it down.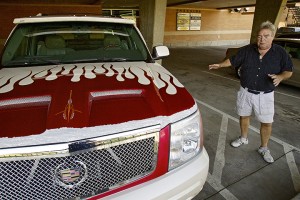 Because it can be easier to spot a 2003 Cadillac truck on huge, chrome wheels - with a fire-painted hood and vanity plates driving down the street - than, say, another Toyota Camry. "I thought they would find it the first day or that it was gone forever," said Tom Fisher, Century 21 real estate agent and self-described "car guy" whose $25,000 Cadillac matching the above description was stolen from his shop Saturday afternoon. "Either, or." Fisher figured the crook would skip town after lifting such an obvious car. Apparently, that wasn't the case. The truck was spotted dozens of times driving around mostly east Coeur d'Alene over the weekend, before Fisher recovered it Monday/Tom Hasslinger, Coeur d'Alene Press. More here. (Jerome A. Pollos' Coeur d'Alene Press photo: Tom Fisher with his recovered Cadillac truck)
Factoid: Tom Fisher and I were both managers at the Daily Inter Lake (Kalispell, Mont.), circa 1980 -- Tom in circulation, I in the newsroom.
Question: Has a thief ever stolen a vehicle of yours? Did you get it back?
---
---