THURSDAY, SEPT. 13, 2012, 4:02 P.M.
Train-Car Crash Victim Identified
Kootenai County authorities have identified the woman killed when a train hit her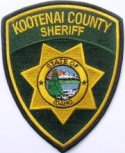 vehicle on the railroad tracks at the BNSF crossing of Ramsey and Boekel, near Rathdrum, at about 7:40 this morning. Rebecca Birdsong, 22, of Rathdrum, was southbound when her vehicle was struck by a westbound train, according to a sheriff's news release. Train personnel said the car had stopped for the posted stop sign at the train tracks, but the driver never looked either way prior to driving into the path of the train. The identity of the driver is being withheld pending positive identification and family notification. There is no indication that drugs or alcohol were a factor in the collision.
---
---