A Wisconsin judge struck down on Friday the state's controversial collective bargaining law pressed by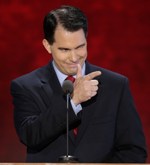 Republican Governor Scott Walker (pictured), ruling that it unconstitutionally limits the rights of many public sector union workers. Walker responded to the ruling by saying that a "liberal activist judge in Dane County" wanted to take away the lawmaking responsibilities of the legislature and governor. "We are confident that the state will ultimately prevail in the appeals process," Walker said in a statement. Dane County Circuit Court Judge Juan Colas ruled that the law passed by Wisconsin lawmakers in a contentious session in 2011 violated the union members' free speech, association and equal protection rights in the state and U.S. constitutions/Reuters. More here.
Question: Any lessons here for Idaho?