Fri., Sept. 14, 2012, 8:18 a.m.
Patriotic Song Flap Brings Apology
Wal-Mart has apologized to a school choir after management at a Florida store refused to allow them to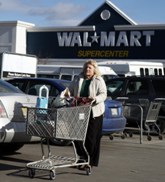 perform "God Bless America" inside the store on Sept. 11. WSVN reports choir director Ana Conner's group of 75 students at Coconut Palm Elementary in Pembroke Pines was scheduled to sing inside their local WalMart on the anniversary of the 9/11 terrorism attacks as a tribute to the victims. However, Conner says when she and her students arrived, the manager refused to allow the children to sing. "On a scale from one to 10, a 10 as far as disappointment goes," Conner told WSVN/FoxNews. More here. (AP file photo)
Question: Another reason to hate WalMart? Or simply a clueless manager?
---
---