MONDAY, SEPT. 17, 2012, 8:55 A.M.
High Court To Hear Brannon Appeal
Nearly three years removed from the election, and two years since its court ruling, the 2009 city election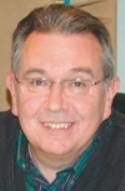 lawsuit will go before the Idaho Supreme Court on Wednesday. It's scheduled to go before the high court's five-member body at 11:10 a.m. at the Kootenai County Courthouse. The election challenge suit, filed by then-Seat 2 City Council challenger Jim Brannon (pictured), claimed that inadmissible ballots had led to incumbent Mike Kennedy's five-vote victory. Brannon filed the suit shortly after the election day loss. But litigation with the highly-publicized suit stretched over a year, ending when 1st District Judge Charles Hosack upheld the election following a six-day trial in September 2010. Part of the ruling tossed out four illegal votes (one of which was for Brannon), trimming Kennedy's victory to three votes/Tom Hasslinger, Coeur d'Alene Press. More here.
Thoughts?
---
---