Mon., Sept. 17, 2012, 8:15 a.m.
Huckleberries: An Appetite For News
North Idahoans know that huckleberries are delicious – the state fruit, if not a certain column by that name. The latter has helped put bread on my table since January 1985. But I've never heard of it being served as a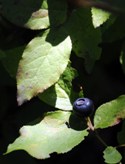 main course for anyone's supper. In her relatively short time with The Spokesman-Review, Cindy Hval achieved something that neither I nor any other columnist/reporter has. She wrote an article that was so good that a reader called to say that he'd eaten it. Cindy, for those keeping score at home, also subs for me during my vacations from the Huckleberries Online blog. She was poppin' buttons last week over the description used by her fan to describe her Pig Out in the Park review. "Delicious" being one of the adjectives. The fan left an S-R phone recording: "It was so good that I cut it out and actually ate it." Then, he backtracked and admitted that he hadn't eaten it. Instead, he had licked the newsprint. Wonder how Cindy's writing works on waffles?/DFO, SR Huckleberries. More here.
Question: Do you ever call or write to the newspaper when you appreciate something that you've read in it?
---
---