Mon., Sept. 17, 2012, 2:44 p.m.
Labrador Hails Ex-Scout Leader
Freshman GOP Rep. Raul Labrador uses his online newsletter to describe a recent visit from his former Boy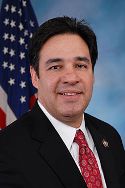 Scout leader, Bob Swift, who stepped in for Labrador's largely absent father. Labrador has spoken about his move from Puerto Rico to Las Vegas with his mother, when Labrador was 13. Joining the LDS Church and the Scouts were key formative moments, he has said. But his description of his relationship with Swift, offers a more intimate view, including Swift's role as a father figure. Writes Labrador: "I remember vividly father-son campouts that we went on in which my friends' fathers would go along with them. Not having my own father around to accompany me, Bob stepped in. He was like a father figure to me. Because of him, I felt like an equal among my peers and shared in the goodwill that was fostered during those outings"/Dan Popkey, Idaho Statesman. More here. (Wikipedia photo)
Question: Is there someone in your life that stepped in to fill an important role, as a father, mother, sibling, etc.?
---
---