Mon., Sept. 17, 2012, 9:15 a.m.
Trib: Idaho Extremism Is No Virtue
If Lawerence Denney (pictured) were just one more talk radio crank, his dissociation from reality would be another form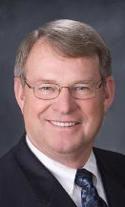 of entertainment for ditto heads. And if Mike Moyle were just another Republican Party conventioneer with a self-righteous disregard for evidence, he might settle for his 15 minutes of fame on a cable news outlet. But Denney, R-Midvale, is the speaker of the Idaho House. Moyle, R-Star, is the majority leader of that body. With rare exceptions, what they say goes. And when it comes to Obamacare, here's what they say: "Resistance usually comes at a cost, but the state of Idaho must resist Obamacare. The cost of not resisting will be much higher." Translation: They resist. You pay. Denney and Moyle want Idaho to refuse expanding Medicaid coverage to poor adults - an option the U.S. Supreme Court gave states when it validated Obamacare/Marty Trillhaase, Lewiston Tribune. More here.
Question: Are Republican legislative leaders in Idaho going to hurt state taxpayers -- big time -- by digging in against Supreme Court approved Obamacare?
---
---