Tue., Sept. 18, 2012, 8:30 a.m.
Romney: 1/2 Of USA Feel Victimized
Republican White House nominee Mitt Romney faced the task of getting his campaign back on track Tuesday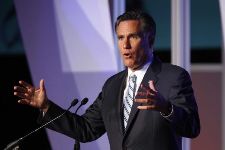 after a hidden camera caught him off guard, while President Barack Obama was kicking back in New York on David Letterman's couch and at a fundraiser with Beyoncé and Jay-Z. Romney plans no apology for stating that nearly half of Americans "believe that they are victims." Instead, he is expected to respond to questions about the statement by reinforcing the message he delivered at a hastily called news conference Monday night, in which he said Obama favors "a government-centered society" with people dependent on public support. Romney advisers concede the video came at a bad time — seven weeks before Election Day and with early voting beginning in two dozen states by this weekend/AP. More here.
Question: Do you consider yourself to be a victim of some sort?
---
---