Tue., Sept. 18, 2012, 3:01 p.m.
Safe In The Crosswalk
When Richard Peterson and Jeff Jenkins interact, anyone watching can tell that for a couple of 18-year-olds, they go way back. As Jeff watched Richard play a friendly game of chess Friday at a downtown coffeehouse,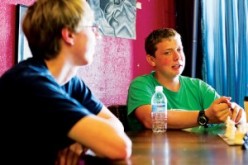 the pair engaged in the friendly kind of kidding that only grows from years of shared experiences. For these teens, much of that time together has been spent at Crosswalk North Idaho, the nonprofit youth outreach program previously known as Project Safe Place. "I think it's probably made one of the biggest impacts in my life," Jeff said of the program. Although the name is new, and the familiar yellow Project Safe Place signs are gone, the services remain the same. Located in the basement of the St. Vincent de Paul H.E.L.P Center, 201 E. Harrison Ave., Crosswalk provides immediate help and supportive resources for Kootenai County youth in crisis/Maureen Dolan, Coeur d'Alene. More here. (Shawn Gust CdA Press photo: Jeff Jenkins, 18, talks about how the outreach program Crosswalk North Idaho has helped him as Richard Peterson listens)
Question: I didn't know this program existed in Coeur d'Alene. Did you?
---
---