WEDNESDAY, SEPT. 19, 2012, 1:27 P.M.
GOP Senator Blasts '47%' Comment
Sen. Dean Heller (R-Nev.) said he has a "very different view of the world" than the one Mitt Romney expressed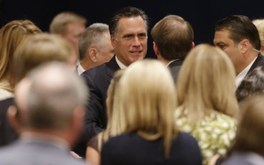 at a private fundraiser, a sign of how dangerous the now-famous "47 percent" comment is to a swing-state senator facing reelection. "I have five brothers and sisters. My father was an auto mechanic, my mother was a school cook," Heller told reporters outside the Senate floor Wednesday afternoon. "I have a very different view of the world and as a United States senator I think I represent everybody. And every vote is important. Every vote is important in this race. I don't write off anything"/Cameron Joseph, The Hill. More here. (AP photo: Mitt Romney greets donors in Atlanta, Ga., today)
Question: Are you part of the 53% who pays income tax or the 47% who doesn't?
---
---