Fri., Sept. 21, 2012, 2:17 p.m.
Hoffman Decries Anti-Luna Reform Ad
The education labor union has reached a new milestone in lowness, attempting to turn Idaho voters into Luddites and depict kids as klutzes in order to satisfy a selfish agenda. Witness its first ad against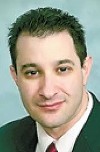 Propositions 1, 2 and 3. Says the ad: "Prop 3 replaces teachers with computers by requiring that taxpayers fund laptops for high school students." Not true. The law requires schools start using technology, and that mobile computing devices — which covers more than laptops, by the way, be part of the regular curriculum. It does not replace teacher with computers, robots, androids or holograms. The ad also claims that "the Legislature failed to fully fund the laptops required by Prop 3." Also not true, which makes the further allegation, that the law will cause property taxes to go up, also erroneous/Wayne Hoffman, Idaho Freedom Foundation. More here.
Question: Have you seen the ad? What do you think of it?
---
---