Fri., Sept. 21, 2012, 1:13 p.m.
Party Trolley Rolls Out The Fun
It's green, 19 feet long, runs on 20 legs and produces a bit of a buzz. No, we're not talking mutant insect. This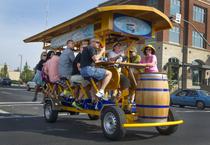 is the Spokane Party Trolley – an environmentally friendly, pedal-powered pub on wheels, complete with keg tap, that relies on its riders for fuel as it travels between stops. "You've got to work for your beer on this," said Nina Kindem, who just launched the business out of the Saranac Building, 17 W. Main Ave. Groups can rent the trolley for two hours or more. Up to five people on each side pump the pedals. There's room for five others to sit, plus space for a standing host/bartender in the middle. A company-provided pilot perched up front keeps things under control and on schedule/Rick Bonino, SR. More here. (Colin Mulvany's SR photo: With owner Nina Kindem at the wheel, the Spokane Party Trolley makes a run in downtown Spokane)
Question: Would you like to see a Party Trolley in Coeur d'Alene?
---
---