Fri., Sept. 21, 2012, 9:11 a.m.
Tribune: Mitt's Idaho Moochers
JEERS ... to Republican presidential nominee Mitt Romney. He just called the Gem State a collection of moochers, victims and tax dodgers. At a fundraiser held at businessman Marc Leder's home at Boca Raton,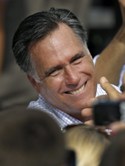 Fla., Romney said: "There are 47 percent of the people who will vote for the president no matter what. All right, there are 47 percent who are with him, who are dependent upon government, who believe that they are victims, who believe the government has a responsibility to care for them, who believe that they are entitled to health care, to food, to housing, to you-name-it. That's an entitlement. And the governments should give it to them. And they will vote for this president no matter what. ... These are people who pay no income tax. ... My job is not to worry about those people. I'll never convince them that they should take personal responsibility and care for their lives." That's you, Idaho -- overflowing with low-wage jobs and oozing with needs for "health care, food, housing, you-name-it"/Marty Trillhaase, Lewiston Tribune. More here.
Thoughts?
---
---