Mon., Sept. 24, 2012, 10 a.m.
Smart Bombs: 'Lucky Duckies' Lazy?
In his Smart Bombs column, Gary Crooks of the SR Editorial Board, tells of the dilemma that many hard-working Americans fund themselves in as the collateral damage from the Great Recession continues:
So, you've cobbled together unemployment benefits, help from family, food stamps and other assistance to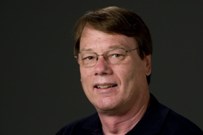 keep your household afloat in the dim hope that a thoughtful employer might throw you a lifeline. Then last week, you learned that presidential candidate Mitt Romney grouped you with all Americans who pay no income tax, and he assigned your motives to malingering and mooching. This, by his definition, made you an automatic vote for President Barack Obama. He wasn't feeling sorry for you; he was feeling sorry for himself. How can he win you over with an income tax break when you're not paying that tax at this time? To put it in the terms of an obnoxious Wall Street Journal editorial, this makes you one of the "lucky duckies."
Question: Which presidential candidate -- if either from the major parties -- is more likely to feel your pain?
---
---