Tue., Sept. 25, 2012, 8:20 a.m.
'Hawks Beat Pack On Blown Call
In a bizarre ending that capped a brutal weekend for replacement officials, the Seattle Seahawks somehow beat the Green Bay Packers 14-12 on Monday night at CenturyLink Field in a game that's certain to re-ignite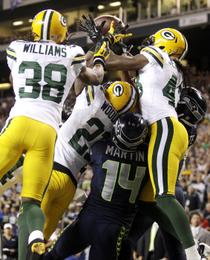 frustrations over the locked-out refs. Russell Wilson threw a disputed 24-yard touchdown pass to Golden Tate on the final play of the game, a game that finally ended 10 minutes later when the teams were brought back on the field for the extra point. Wilson scrambled from the pocket and threw to the corner of the end zone as the clock expired. Tate shoved Green Bay's Sam Shields out of the way, then wrestled with M.D. Jennings for possession. It was ruled on the field as a touchdown, and after a lengthy review, referee Wayne Elliott came out from under the hood and announced "the ruling on the field stands" and the fans erupted in celebration/Associated Press. More here. (AP photo: Seattle Seahawks wide receiver Golden Tate, far right, battles for position to catch the game-winning TD)
Question: Should the NFL step in and overturn the replacement refs' blown call, giving the victory to the Green Bay Packers instead of the Seattle Seahawks?
---
---