Tue., Sept. 25, 2012, 3:40 p.m.
H&W Office: Bouma? Obama? Scram!
Gresham Bouma, a Moscow GOP legislative candidate, was incorrectly told he needed to move a campaign rally this week because state regulations banned it, the Lewiston Tribune reports; Bouma was asked to move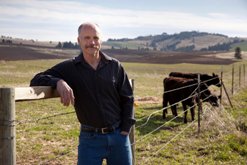 his rally, which his campaign was filming, from in front of a building housing the state unemployment office and a Health & Welfare office in Moscow. Bouma moved to the parking lot of a local business instead; state Health & Welfare officials expressed concern about their clients' privacy. Click below for an AP report on the incident. But here's a sign Bouma wasn't targeted for his views: The Lewiston Tribune's full article today also included this tidbit: "The office manager initially reported that supporters of President Barack Obama were assembling, apparently misreading Bouma's name on a sign"/Betsy Russell, Eye on Boise, has AP report. More here. (Photo from Gresham Bouma's Facebook page)
Thoughts?
---
---