Tue., Sept. 25, 2012, 9:28 a.m.
Otter Empathizes w/Chicago Mayor
In the struggle to fix the nation's public schools, the old red-state, blue-state idea is looking as dated as Dick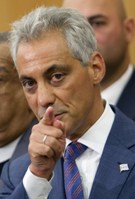 and Jane. You can hear the change in the voice of Gov. C. L. Otter, a Republican here in one of the most deeply conservative corners of the country, when he expresses a brotherhood bond with Rahm Emanuel, the Democratic mayor of Chicago and former Obama administration chief of staff. Students at New Plymouth Elementary play outside during recess. "I could empathize with Rahm and what he was going through," Mr. Otter, better known as "Butch," said about the recently settled teachers' strike in Chicago during an interview here in the State Capitol. "It's not the teachers," Mr. Otter said, paraphrasing Mr. Emanuel's tough-guy script from a news conference at the height of the standoff. "It's the union bosses"/Kirk Johnson, New York Times. More here. (AP file photo: Chicago Mayor Rahm Emanuel)
Question: Would you call Idaho Gov. Butch Otter and Chicago Mayor Rahm Emanuel kindred spirits?
---
---