Tue., Sept. 25, 2012, 1:18 p.m.
Priest Lake Fish Yields Human Finger
A fisherman cleaning a large lake trout he caught at Priest Lake found a human finger inside. Detectives were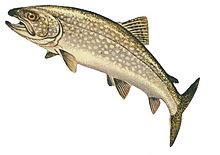 able to get a fingerprint off the severed digit and track it back to the owner: a 31-year-old wakeboarder who lost four fingers from his left hand during an accident on the lake more than two months earlier. On Sept. 11, Nolan Calvin reported that while fishing on the west side of Priest Lake, he caught a large lake trout, the Bonner County Sheriff's Office said. Calvin began to clean the fish and discovered what he believed to be a human finger inside the fish. He put the finger on ice and reported the incident to the sheriff's office. Detectives confirmed the finger was human and discovered there was sufficient ridge detail to obtain a latent fingerprint. Detectives began to search for a possible victim/Scott Maben, SR. More here. (Wikipedia photo of a mackinaw/lake trout)
Thoughts?
---
---